Mercy Center wins $25k for community garden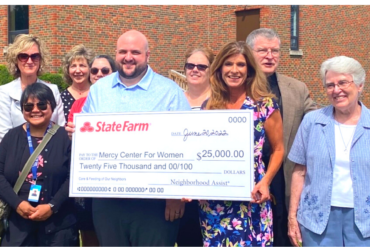 At a press conference on June 20, the Mercy Center for Women accepted a $25,000 check it won in the State Farm Neighborhood Assist national grant program. With more than 4,000 nominations from across the country, State Farm Neighborhood Assist selected the top 200 projects that fit their criteria of building stronger neighborhoods through collaboration. From there, it was up to the public to vote for their favorite cause.
The Mercy Center was one of just 100 nationally with the highest votes to receive a $25,000 check. The funds will be used to expand the current community garden, located adjacent to the Mercy Anchor Community Center, and will soon include space for fruits, vegetables and a reflection garden—all of which will be open to our neighbors. Thanks to everyone involved in the project including Yardmaster of Pennsylvania who worked meticulously on the garden and all who voted.