Mercy Center for Women Sees Record Amount of People Seeking Assistance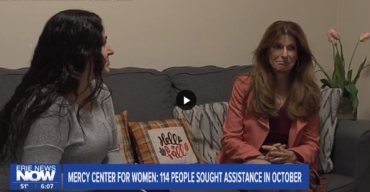 "It's just very important for us to do our share in the community to house those who have no place to go," said Mercy Center for Women Executive Director Jennie Hagerty. "If they are in addiction recovery, we offer those programs and services as well."
As temperatures begin to dip, Hagerty says the need for those services is tremendous.
"In the month of October, the Mercy Center reached an all-time high of 114 phone calls, emails, or individuals stopping at our door looking for a safe and warm place to stay and food in their stomachs." said Hagerty.
See the full story on Erie News Now.