Annual Fund 2021-22
Thanks to community generosity through donations to our annual fund, women and children have a safe place to stay, three meals a day, and necessary programs to gain self-sufficiency.
Make a difference in women's and children's lives by donating today!
Amanda's Story
Always the "wild card" and rebellious one in her family, Amanda's one decision to take drugs would lead to a series of consequences that would forever change her life. Amanda would eventually become pregnant and because of her drug use, would have to turn over her baby girl from the hospital to complete strangers.
Vayda, Amanda's only child, would spend her first six months being raised by her foster parents Emma and David, with limited time spent with her mother. Amanda does have family who were willing to temporarily raise Vayda until the courts allowed her to have custody. But because Vayda's birth was on the weekend, the Office of Children and Youth could not perform a home study, so Vayda needed an immediate place to live. Enter David and Emma, Vayda's foster parents, who would give Vayda a loving home until Amanda was healthy enough to get her back. But that arrangement would last much longer than Amanda had anticipated.
Amanda soon entered a drug treatment program but due to COVID-19, in-person visits with Vayda had stopped and she could only visit her via Skype for the next three months.
"Vayda's foster parents would tell me stories about her milestones and we would talk about her progress as I watched her on the camera," Amanda recalls. "It was hard to bond with my 6-month-old child on the other side of a screen," she says. After completing the treatment program, Amanda then lived in a halfway house.
Finally, three months later, Amanda and Vayda were granted unification and eventually Amanda gained custody of her daughter.
It's been almost a year that Amanda and Vayda, now two, have been at the Mercy Center. As her graduation nears, Amanda realizes she will likely always need to work on her recovery. Her next step, now that she is working, is finding an apartment and creating a real home for Vayda and herself.
"I can't wait," she says enthusiastically.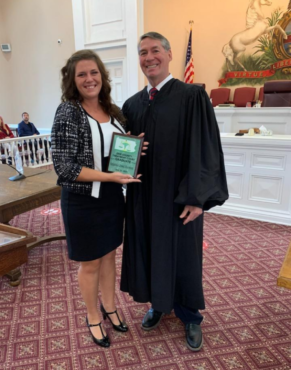 Stories like Amanda's is how your gift can make an impact.
Without your support, Amanda would not have the opportunities to move forward on her journey with Vayda and live independently. With the launch of the Mercy Center for Women Annual Fund our hope is to help women and children escape poverty, addiction and domestic violence.
Our goal of $250,000 will allow 40 women and children to come in from the inclement weather into a community of warmth and security. Your gift will provide shelter, food, transportation, social services, education and childcare to the women and children we serve.
---
---
Mercy Center for Women 2020 - 2021 Facts
63 women and children housed
4,928 total shelter nights
100% of women served have a mental health diagnosis
30% struggle with drug and/or alcohol abuse
91% have a history of domestic violence
82% are currently fleeing domestic violence
Give Today
It is something special when one gives with an open heart and mind.
The Mercy Center for Women cannot do this without you. Your gift will make a lasting impact on the women and children we serve.
You can donate online or mail your gift by downloading and completing the PDF donation form. Please mail the form along with a check made payable to:
Mercy Center for Women
1039 East 27th Street
Erie, PA, 16504
Please contact Jennie Hagerty, Executive Director, with questions at (814) 455-4577.