Community involvement
---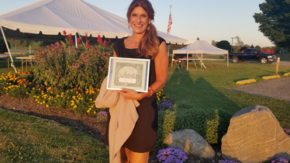 Holy Rosary project receives award for building reuse
On Aug. 18, 2022 Mercy Center Executive Director Jennie Hagerty accepted the 2022 Greater Erie Award from Preservation Erie in the Adaptive Reuse category. The award recognized the repurposing of the vacant Holy Rosary School into housing for those previously homeless and support services, all within the 39,000 square foot complex. The awards are presented annually to "individuals, businesses, or organizations that are exceptional stewards of the physical and cultural landscape that is Greater Erie."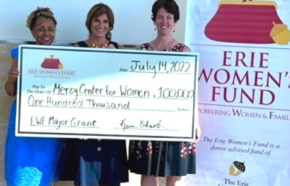 WEAR program awarded $100,000 grant
The Erie Community Foundation's Erie Women's Fund made a major announcement July 15 at its summer gathering. The Mercy Center for Women was recognized as the $100,000 grant recipient for its Empowered Achieve Results (WEAR) program which was created to break down the barriers of low-income women in Erie, so that they can obtain family-sustaining wages through education and job readiness skills.
The program is a partnership among the Mercy Center, Erie County Community College and ExpERIEnce Children's Museum that will be administered at the Mercy Anchor Community Center expected to open later this year. The new center will include affordable housing for low-income residents, a food pantry, technology center, thrift store, workforce readiness preparation and GED classes. Partnerships with various service providers will also allow easy access to community-based programming to address children's and adults' physical and psychological needs.
The WEAR program was the only grant recipient of the major grant and was chosen from more than 30 nominated projects.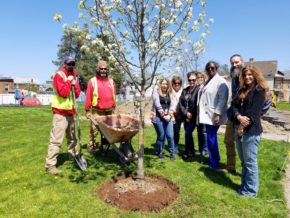 Community garden project wins $25k from State Farm Neighborhood Assist
At a press conference on Mon., June 20, the Mercy Center for Women accepted a $25,000 check it won in the State Farm Neighborhood Assist national grant program. With more than 4,000 nominations from across the country, State Farm Neighborhood Assist selected the top 200 projects that fit their criteria of building stronger neighborhoods through collaboration. From there, it was up to the public to vote for their favorite cause.
The Mercy Center was one of just 100 nationally with the highest votes to receive a $25,000 check. The funds will be used to expand the current community garden, located adjacent to the Mercy Anchor Community Center, and will soon include space for fruits, vegetables and a reflection garden—all of which will be open to our neighbors.
---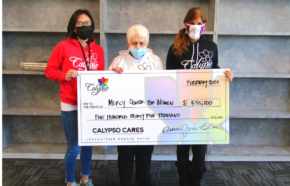 Largest single donation received for new housing program
Mercy Center for Women's Executive Director Jennie Hagerty and Sister JoAnne Courneen of the Sisters of Mercy were on hand to accept a $535,000 check, the largest single corporate donation in the nonprofit's 28 year history.
Feb 24, 2022
---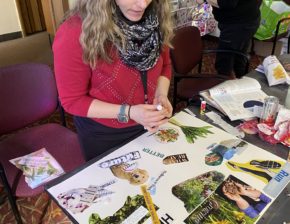 Women enjoy 'Loving the Dream' vision board activity
The women and staff of the Mercy Center for Women took part in a fun project on Valentine's Day while enjoying delicious food and each other's company.
Feb. 14, 2022
---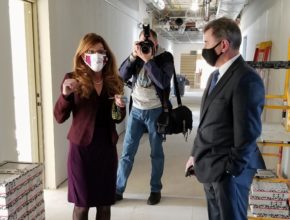 Mercy Center receives more than $600,000 for new housing program
On Dec. 13 the Secretary of the Department of Community and Economic Development Dennis Davin visited the Mercy Center for Women's latest project, the Mercy Anchor Community Center, which will address the housing needs of low income families.
Dec. 14, 2021
---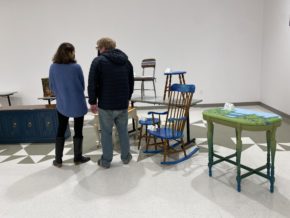 Reclaiming Home Art Auction
The Mercy Center for Women held an art auction Dec. 10 involving local artists and community members who transformed old pieces of furniture, many of which winning bidders donated back to the center for its new residential center.
Dec. 10, 2021
---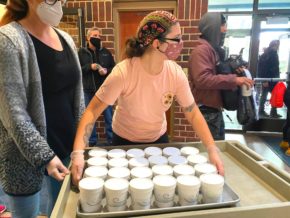 Thanksgiving Luncheon Served at Erie City Mission
Residents and staff collaborate with Erie City Mission for holiday meal.
Nov. 20, 2021
---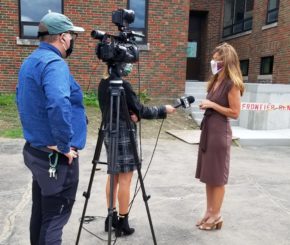 Media Covers Housing Need
Executive Director Jennie Hagerty received media coverage about the critical need for housing in the Erie area.
Oct. 29, 2021
---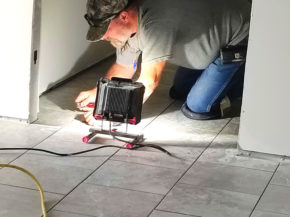 Holy Rosary School Renovation Update
We are nearing completion of the Holy Rosary School project that will be the anchor building in the Marvintown/Academy area of the City of Erie.
Oct. 29, 2021
---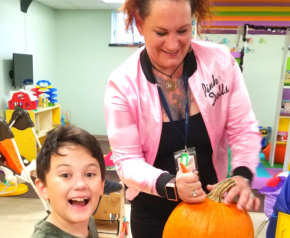 Halloween Party for Women & Children
Kids and women alike took part in the annual Halloween party on Oct. 23.
Oct. 23, 2021
---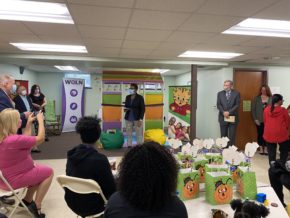 Book Nook Ribbon Cutting
Mercy Center for Women held a ribbon cutting celebration on Oct. 13 for its new book nook, thanks to WQLN PBS, AmeriHealth Caritas and Hooked On Books For Kids.
Oct. 13, 2021
---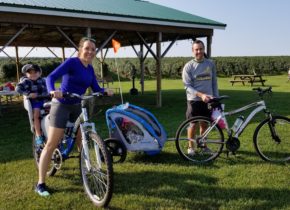 Pedal for Mercy
Mercy Center for Women held its inaugural Pedal for Mercy bike ride/fundraiser on Sept. 11 at Penn Shore Winery and Vineyards in North East, Pa.
Sept. 11, 2021
---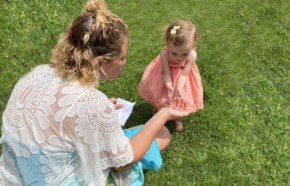 Butterfly Event Celebration
The Mercy Center for Women's annual Butterfly Effect Celebration took place on Aug. 8 in the garden area behind the Mercy Center for Women.
Aug. 8, 2021
---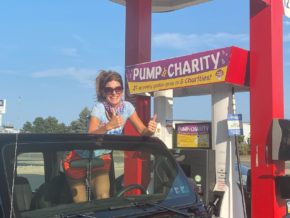 Your Two Cents Worth
Mercy Center for Women was blessed to be chosen along with four other local nonprofits to participate in the Country Fair's Pump for Charity project from May 1, 2020 to October 31, 2020.
Oct. 13, 2020