Involved in Community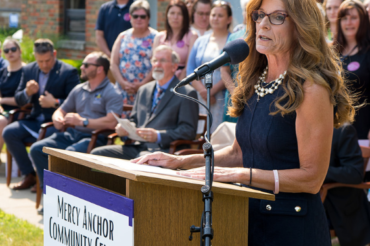 New housing complex opens doors to public
On June 7th, the Mercy Center for Women opened its doors to the public at its newest residential program for those who've experienced homelessness.
A ribbon-cutting ceremony followed by an open house was held at the Mercy Anchor Community Center in the former Holy Rosary School, located in Erie's upper eastside.
In 2020, the Mercy Center purchased the 39,000-square-foot school building for $300,000 from the Roman Catholic Diocese of Erie which operated the school until 2004. Following a capital campaign which raised nearly $5 million for renovations, the center is now open to provide housing for as many as 32 residents including men, women and children, and support services to the entire Erie community.

The Mercy Center also collaborated with several organizations in the area who are providing services such as primary and behavioral healthcare, GED and workforce preparedness classes, a food pantry and thrift store--services that are available to both tenants and Erie residents from this one location.
MACC is a unique program in northwestern Pennsylvania as it's the only one-stop location for both housing and services to help the region's impoverished get back on their feet.
The Mercy Anchor Community Center was renovated without any debt.
Tenants begin moving into Mercy Anchor Community Center
This week, tenants began moving into their new home at Mercy Anchor Community Center, the former Holy Rosary School, which the Mercy Center renovated with more than $4 million raised during the nonprofit's capital campaign.
The 39,000-sq.-ft. facility includes housing for 32 persons in 13 new two-bedroom apartments which feature a kitchen, full bathroom, stackable washer and dryer and other amenities. The facility also includes a gymnasium, an exercise room, a technology center, a thrift store and food pantry. The Mercy Center has also partnered with more than 20 organizations, many of whom will offer case management and other support services including UPMC Western Behavioral Health, AHN Saint Vincent and Sarah Reed Children's Center.
To read the Erie Times-News front page article on Feb. 28, 2023 click here.
---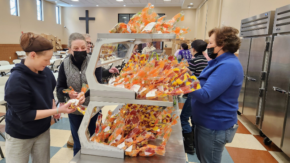 Second annual Thanksgiving meal served at Erie City Mission
On November 19, 2022 more than 50 staff, residents, volunteers and board members participated in the Mercy Center's second annual Thanksgiving luncheon at the Erie City Mission. In addition to a warm meal, more than 150 guests were given blessing bags filled with personal care items, socks, hats, blankets and a gift card. While the event helps others in need, it also reminds Mercy Center residents of everyone's responsibility to show gratitude and kindness regardless of one's own circumstance.
---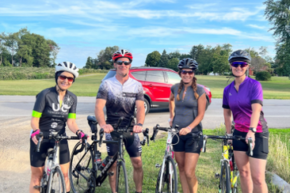 Pedal for Mercy sees increase in cyclists, support
On Sept. 10, 2022 more than 150 bike enthusiasts, volunteers and other supporters gathered at Penn Shore Winery and Vineyards in North East for the Mercy Center for Women's second annual Pedal for Mercy cycling event. The day was simply perfect weather and the North East wine country and its residents who greeted cyclists at various establishments along the routes didn't disappoint. More businesses jumped on board as sponsors or as becoming refreshment stops. Plans are underway for the third annual event in early September.
---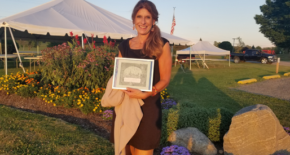 2022 Greater Erie Award for Holy Rosary Project
On Aug. 18, 2022 Mercy Center Executive Director Jennie Hagerty accepted the 2022 Greater Erie Award from Preservation Erie in the Adaptive Reuse category. The award recognized the repurposing of the vacant Holy Rosary School into housing for those previously homeless and support services, all within the 39,000 square foot complex. The awards are presented annually to "individuals, businesses, or organizations that are exceptional stewards of the physical and cultural landscape that is Greater Erie."
---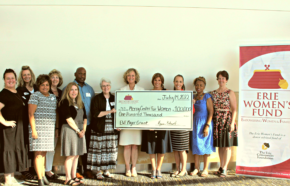 WEAR program awarded $100,000 grant
The Erie Community Foundation's Erie Women's Fund made a major announcement July 15, 2022 at its summer gathering. The Mercy Center for Women was recognized as the $100,000 grant recipient for its Women Empowered Achieve Results (WEAR) program which was created to break down the barriers of low-income women in Erie, so that they can obtain family-sustaining wages through education and job readiness skills.
The program is a partnership among the Mercy Center, Erie County Community College and ExpERIEnce Children's Museum that will be administered at the Mercy Anchor Community Center expected to open later this year. The new center will include affordable housing for low-income residents, a food pantry, technology center, thrift store, workforce readiness preparation and GED classes. Partnerships with various service providers will also allow easy access to community-based programming to address children's and adults' physical and psychological needs.
The WEAR program was the only major grant recipient and was selected from more than 30 nominated projects.
---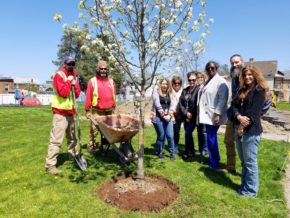 Community garden project wins $25,000 from State Farm Neighborhood Assist
At a press conference on June 20, 2022 the Mercy Center for Women accepted a $25,000 check it won in the State Farm Neighborhood Assist national grant program. With more than 4,000 nominations from across the country, State Farm Neighborhood Assist selected the top 200 projects that fit their criteria of building stronger neighborhoods through collaboration. From there, it was up to the public to vote for their favorite cause.
The Mercy Center was one of just 100 nationally with the highest votes to receive a $25,000 check. The funds will be used to expand the current community garden, located adjacent to the Mercy Anchor Community Center, and will soon include space for fruits, vegetables and a reflection garden—all of which will be open to our neighbors.
---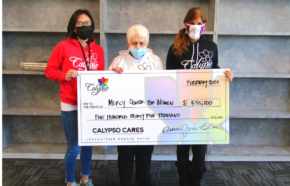 Largest single donation received for new housing program
Mercy Center for Women's Executive Director Jennie Hagerty and Sister JoAnne Courneen of the Sisters of Mercy were on hand to accept a $535,000 check, the largest single corporate donation in the nonprofit's 28-year history.
Feb 24, 2022
---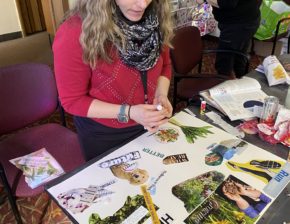 Women enjoy 'Loving the Dream' vision board activity
The women and staff of the Mercy Center for Women took part in a fun project on Valentine's Day while enjoying delicious food and each other's company.
Feb. 14, 2022
---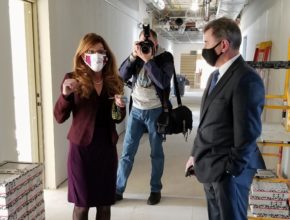 Mercy Center receives more than $600,000 for new housing program
On Dec. 13 the Secretary of the Department of Community and Economic Development Dennis Davin visited the Mercy Center for Women's latest project, the Mercy Anchor Community Center, which will address the housing needs of low income families.
Dec. 14, 2021
---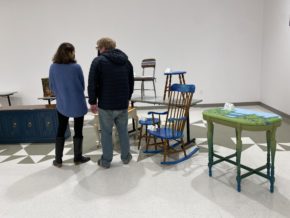 Art auction transforms donated items
The Mercy Center for Women held an art auction Dec. 10 involving local artists and community members who transformed old pieces of furniture, many of which winning bidders donated back to the center for its new residential center.
Dec. 10, 2021
---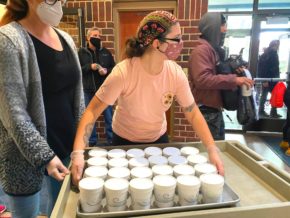 Thanksgiving luncheon served at Erie City Mission
Residents and staff collaborate with Erie City Mission for holiday meal.
Nov. 20, 2021
---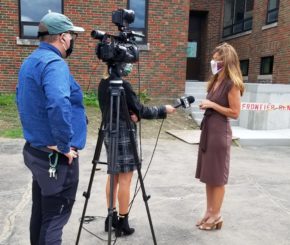 Media covers growing affordable housing need
Executive Director Jennie Hagerty received media coverage about the critical need for housing in the Erie area.
Oct. 29, 2021
---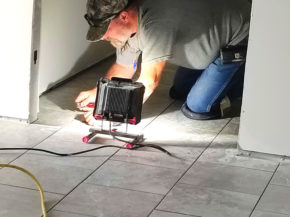 Transformation continues at former Holy Rosary School
We are nearing completion of the Holy Rosary School project that will be the anchor building in the Marvintown/Academy area of the City of Erie.
Oct. 29, 2021
---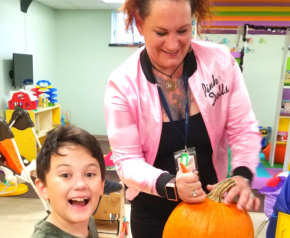 Residents enjoy Halloween festivities
Kids and women alike took part in the annual Halloween party on Oct. 23.
Oct. 23, 2021
---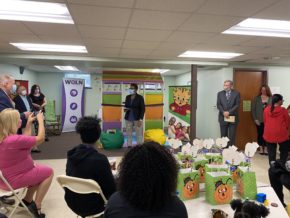 Book Nook donation project is unveiled
Mercy Center for Women held a ribbon cutting celebration on Oct. 13 for its new book nook, thanks to WQLN PBS, AmeriHealth Caritas and Hooked On Books For Kids.
Oct. 13, 2021
---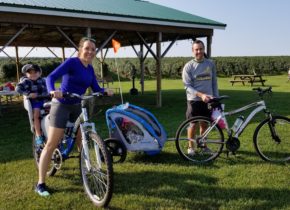 Pedaling for Mercy for a great cause
Mercy Center for Women held its inaugural Pedal for Mercy bike ride/fundraiser on Sept. 11 at Penn Shore Winery and Vineyards in North East, Pa.
Sept. 11, 2021
---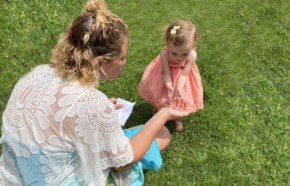 Butterfly release event celebrates lives that touch us
The Mercy Center for Women's annual Butterfly Effect Celebration took place on Aug. 8 in the garden area behind the Mercy Center for Women.
Aug. 8, 2021
---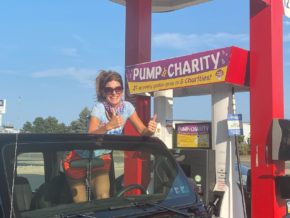 Pumped about being chosen for Country Fair fundraiser
Mercy Center for Women was blessed to be chosen along with four other local nonprofits to participate in the Country Fair's Pump for Charity project from May 1, 2020 to October 31, 2020.
Oct. 13, 2020