Women Making History 2022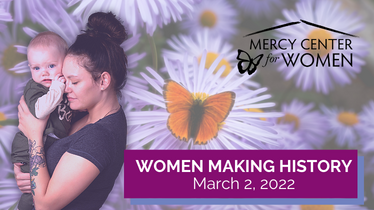 The 12 Honorees for 2022 have been chosen
Please join us as we recognize the accomplishments of these 12 Honorees who have served the Erie community with love, grace and compassion.

Mary Bula
Katrina Byrd
Elizabeth Edwards-Steen
Mary Kay Eisert-Wlodarczyk
Susannah Weis Frigon
Amparito Hernandez
Penny Johnson
Marybelle Martin
Sr. Michele Schroeck, RSM
Karen Seggi
Dr. Karen Tyler
Annette Wittmann

---
Women Making History 2022
March 2, 2022 | 7:00 P.M.
Mary D'Angelo Performing Arts Center
Mercyhurst University
501 East 38 St. | Erie
We welcome everyone to come celebrate with us. The event is free and open to the public with no RSVP required. CDC guidelines regarding public events and other safety procedures will be followed. Please park on the south side of the Performing Arts Center.
---
Become a Sponsor
By sponsoring Women Making History 2022, you demonstrate your support of these women who make our community better by their actions. Your contribution will also help the Mercy Center for Women provide the necessary services our women and children need to become self-sufficient. Please see brochure below for sponsorship information.
Make a Donation
Show your support for these women who have made a difference in the Erie community by donating today.