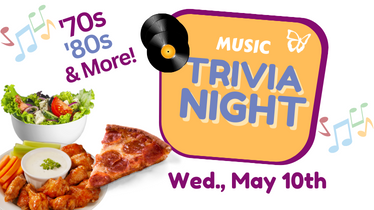 Music Trivia Night
Wed., May 10 • 6:30 pm to 9:00 pm
New and fun for 2023 is our first ever "Music Trivia Night" set for Wed., May 10th, 6:30 p.m. at the La Nuova Aurora Club, 1518 Walnut Street in Erie.

Compete in teams of four @ $100 per team, and while you're at it enjoy delicious pizza, wings, salad and one adult beverage on tap--all included in your team registration. We'll have 50-50s and baskets to win, plus a prize for the top team who will be crowned the kings and queens of music trivia!
To register your team, please click below to complete the form. Reservations are limited to the first 20 teams. With your $100 online registration, please be sure to list in the comments section the four names of those on your team. Registration forms may also be mailed to the Mercy Center along with your check.
To sponsor this event online, please click on the link above, or download the attached sponsorship form which can be mailed to the Mercy Center with your check. Sponsorship levels and what they include are available here.